A host offer is a tour where you will be the only guide and you need to create your own itinerary and be chosen by us to go online on the platform. Here are instructions for you to create your own host offer, we only accept applicants for this who are also on a Withloclas Originals Tour. We will accept the best Host Offers which are created to a high standard.
If you decided to create your own host offer, you are gonna need to create your tour. From title, teaser, description, highlights, and itinerary. But don't worry, it's pretty easy!
Ready to start? You can create a host offer by going to the 'my offers' section on your profile and selecting 'new offer'.
Pick a Theme:
Think of a consistent theme for your tour and interesting stories along the way.
EG: Neighborhood Tour, Buddhism Tour, Wine Tasting Day Trip etc.
Convenient route:
Create an easy to follow route for your tour. No backtracking, it doesn't need to be a circle, but ensure logical progress and order of the route. Use lesser-known and quieter streets to have the local vibe!
Hidden Gems:
Offer the unexpected to your guests, and show them some spots & things they could never find alone that only the locals know about.
Duration:
Please consider that you will have guests of all ages and abilities. Make sure the route is adapted to everyone - or that you have a backup plan to adapt to your guests :)
city walking tours 1.5 - 3 hours, day trips, 5 - 8 hours, food tours 2 - 3 hours, night walking tours 2 - 3 hours
Step 1: Your Offer
Your country & city:
Remember to fill the country and city where you live. Pick a city where you plan to have your pick-up from, for example, if it is a day trip to vineyards in France but you meet at a central location in Paris select Paris as your area (only cities that are live on our platform can be selected).
Category:
Pick the right category that best describes what your experience is about.
You can choose either Food experiences (as cooking class, home dinner, food tour) to Things to do (tours, workshops, sport/leisure activities, etc.)
Title:
Write a catchy name that makes the guest want to know more about your offer. Add those keywords that make it unique.
E.G: "Greek nightlife tour: drinks, snacks & local bars" or "Ultimate Local Floating Market & Boat Tour".
Teaser:
Your teaser is a summary of your offer. Think about this: Why should guests book your experience? Make them want to read more! Include the best features inside your offer in a few words.
EG.: "Florence exudes love & passion and there is no better proof than all the romance stories that have happened in the city. Go on a storytelling tour at night and fall in love with Florence. Hear stories of love, betrayals, ghosts, and tragedy and visit the places where it all happened!"
Description
The description explains to your guests what to expect. Describe your tour and try to answer the questions below, so your guests can get a better feel of your passion and personality.
Why do you want to share this tour with your guests?

Tell us more about your expertise. Why are you passionate about this tour?

Are there any hidden gems that make this tour extra special?
Check out some good host offer examples we like that have a good mix of what & why and show personality:
Highlights of your experience:
Add the 6 best features from your host offer - What makes it unique?
EG.: Drink a coffee at the oldest cafe in London
See the highlights of the city with an architect
Avoid the crowds in the city's local neighborhoods
What's the Plan?
What's the itinerary for the tour? The plan is a very important part of your offer. People usually make their final decision depending if the plan of the tour is attractive. Be specific and inviting when making the description of your plan. This is an example:
Start with the name of a stop in a first column and follow with a description of what you will do / see / why it's special / story you will tell.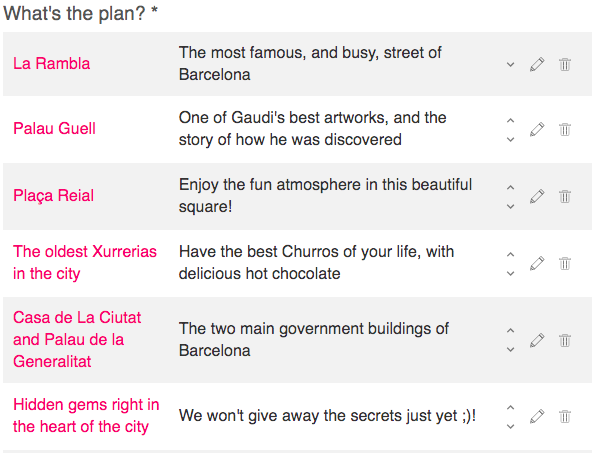 Don't want to reveal your secrets? Here is an example of how you can do it:
Hidden Passage: walk down a covered passage only the locals know
This way, you give them a taste of what they can expect without revealing the place.
Please note: full plans normally have around 5 - 12 stops in total.
Inclusions:
Inclusions are a very important part of your tour. They add value and guests are on the lookout to see what's included when they book a tour with you. Go through all the sections after the plan and ensure to select the inclusions on the tour, you can even add more yourself. If you have just a 'tasting' then make it clear by clicking 'other' and typing what kind of tasting is included.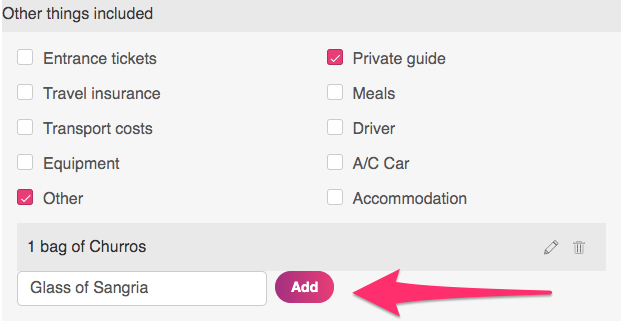 Keep in mind, everything you add on inclusions should also be included in the cost of the tour.
Other things not included
Please let the guests know what extra costs are not included in the price of the tour.
entrance tickets (indication of the price)
Step 2: Address / Meeting Point
Where are you meeting your guests? There are different options and it all depends on the type of tour/experience. Guest pick up:
You will pick up the guests at an established location and can include this service in the price of the tour. This service applies if you offer a day trip or an experience quite far from the city center.
Public meeting point:
If you offer a city tour, this is the best option. The guests will meet you in a public spot in the city that's recognizable and easy to find.
Make sure that this meeting point is specific, not crowded and that the guests will be able to spot you directly and easily.
Private address:
This option is in case your offer takes place in your house as a cooking class, home dinner, or a workshop. Don't worry, the address will only be visible to your guests after the booking is confirmed.
Step 3: Pricing & Availability
Number of guests
Remember that all groups are private. Please only select a realistic amount of guests according to the venues you will visit and how many people you are comfortable doing the experience with. 8 people max is the standard.
Price
Calculate the price for the offer according to the following variables: how much you would like to earn for the experience, fixed expenses like car expenses, entrance tickets for the host, etc., and variable costs per guest like tickets, tastings, etc. Keep in mind that Withlocals adds a commission that is equal to 32% on host offers' final customer price.
Keep in mind that the total cost will be divided depending on the number of people going on the tour.
Example:
Total guest price (traveler paid price) = EUR 100, including EUR 10 of guest expenses like food cost or entrance ticket.
Withlocals service fee of 32% = EUR 32
Amount you receive = EUR 68
The income you generate = EUR 58 (the amount you receive minus EUR 10 of guest expenses)
Time slots
Pick every possible starting time you can to do the tour: the more options are open, the more bookings you'll get!
Instant Confirmation
Boost your bookings with instant confirmation!
Tours with the instant confirmation feature are more attractive for the guests as they will not have to wait for a confirmation.
It is quick and easy to manage: just keep your availability up to date on the agenda.
Step 4: Photos
Feel free to add photos that represent your experience best. We will review these and make the final selection according to our brand strategy. In some cases, we will assign a local ambassador to take some great photos for your experience.
Get tips on how to take awesome photos for your experience here
Step 5: Submit Your Offer
That's it! You have created your Withlocals offer. You click 'Yes, submit for approval,' and we'll review your offer. If your experience has high potential/match our portfolio objectives, we'll be in touch with you to approve your host offer.
You can create a new host offer by visiting: https://profile.withlocals.com
Once you have submitted a new host offer, announce it in the #host-offer channel in the host slack community.