Profile Completion
→ Proceed to work on your profile ['Edit profile' on drop-down menu] (or access through this link: https://profile.withlocals.com/profile)
→ Fill in all the sections:
You can check out this video to see how to create your profile!
STEP 1
Profile Picture
The first impression matters. Let guests see how cool you are through your profile picture!
Here's how to take a great profile picture:
1. Choose a photo of just you, no other people.
2. Take the photo from the waist up, with a beautiful background, preferably outside.
3. Your face should be clearly visible - no sunglasses.
4. Look at the camera and don't forget to smile!
Learn more about getting a perfect profile picture here
Description
Tell us your story and other details that the guest might find relatable at the moment of picking their perfect host. Make it interesting and not sales-y.
Eg: I am a local to Madrid and know the city inside and out. I studied history and archaeology which allowed me to learn more about my beautiful country and its history. My idea of the perfect day would be sitting on the terrace, soaking up the sun while reading books. Then when I have finished reading I love to go and socialize with my friends in the city, we are always discovering amazing places to eat and drink (I know some of the really secret spots not in the guide book). My other passion is music, I teach guitar to kids when I am not showing people around my city.
Your personal title
What would be your tagline? Write it down in this section. Make it fun & catchy!
Follow the structure: The [adjective] [noun]
Eg: The Friendly Guitarist, The Happy Historian, The Chatty Explorer, etc.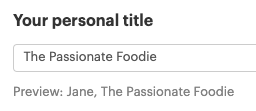 Languages
Please tick the box of every language you feel confident to lead a tour in!
STEP 2
Passions
Time for you to select your main passions. These will be shown to guests on the website so they can match up with hosts that share their same passions!
STEP 3
Your Location
Put your address here; don't worry, this is never shared with the public. The purpose is for us to verify you as a resident of the city you will be leading the experiences in.
STEP 4
Payment Details
Pick the best way for you to get paid after a tour.
Our recommended payment method is bank transfer. With this method, payments are made automatically to you after a tour is complete.
If you select cash, then the guests will pay you directly once you have completed the tour. You will still need to fill in your payment details as they are needed for partner bookings.
STEP 5
Contact Details
Add your mobile number and email here. They are important for us when we need to get in touch with you and also for the guest to have your number in case they need to reach out, they will only receive your number once their booking is confirmed and paid for.
STEP 6
Add Pictures
If you would like to add pictures of your city, you can do that here. This way you can give your guests a sneak peek of your city and your favorite spots (not mandatory).