Do you need to report a change or issue with an existing tour?
We know things are always changing - stops close, new regulations are implemented, meeting points need to change, prices have been updated, you name it!
To make sure that guests expectations match with the experiences they are actually being offered, it's essential that we partner up to keep Withlocals Originals Tours as up-to-date and accurate as possible.
Great news! There is now an easy tool for you to inform us when a Withlocals Originals experience needs to be updated, where you can report issues you see on Withlocals Originals experiences and suggest modifications, directly via the platform!
What happens after I have reported the issue?
So how does it work? According to their level of urgency, the issues reported will be carefully reviewed by our Portfolio Management team who will make changes when relevant. Make sure to be as descriptive as possible when informing us about any issues: the more information, the better!
In some cases, we will decide not to take action at this point. If that's the case for the issue you have reported, we will reach out and let you know.
Timeline expectations
Different issues have different levels of urgency, and the most pressing issues will be solved in priority. Don't worry, all issues reported will be picked up when the time is right!
How to make a quality suggestion/recommendation?
Impact on Sales
For changes on the tour (need a new stop, new supplier, tastings etc), it's important that you suggest alternatives to the option that is currently in the itinerary.
In case you make a new suggestion for a stop where there is a cost included for the guests, make sure that the new price is the same, similar to or lower than the previous inclusion. This helps keeping the offer is competitive in the market and appealing to guests.
What to look out for when making a suggestion?
Before suggesting a new stop, make sure that it makes sense in the route. It doesn't need to be around the same location as the previous one, but maybe it fits in nicely with another part of the route! If the stop you suggested does not fit in the current route, it will not be a valid option as it would mean changing the tour entirely.
If the inclusion is a tasting, try to suggest a replacement that is similar. For example if it's a sweet tasting, try to find a similar alternative.
What information do we need?
To ensure the suggestion is implemented as soon as possible, please send us the following:
Description of what your suggestion is and why it works well in the tour/tours

The location, address & opening hours of your new suggestion

Costs of new suggestion (and how many people can share it if applicable)
The form will take you through all the steps necessary to get this information. We may be in touch to ask for evidence of the price if that is relevant.
Where do report changes on a Withlocals Originals experience?
Want to submit an issue? Find the form in the Manage section of each experience you offer OR GO TO THE FORM DIRECTLY!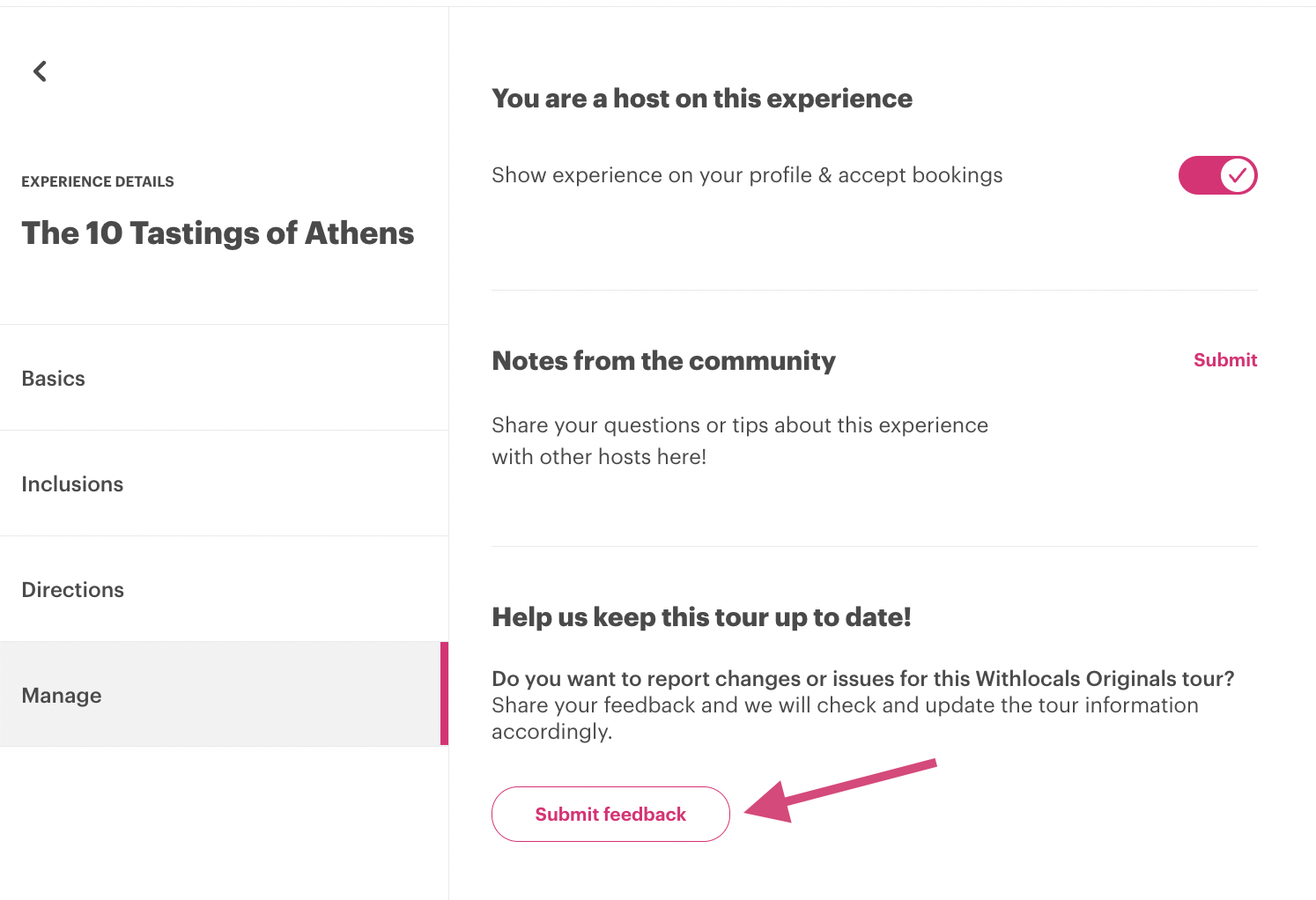 Remember: this form is only made to report changes or issues on Withlocals Originals experience. In case you have any other questions regarding for example your host offer, joining a new tour, issues with guests etc, you can contact us as usual via hosts@withlocals.com.